HISTORY
Churchill Farms is a 3,000 acre tract of land that first came to light in the 1920's and 1930's as reclaimed swampland and offered a prime place for farming. This land has played various roles throughout New Orleans history, and has been identified as a desirable place for economic development on the West Bank, as a part of the Fairfield Planning Area.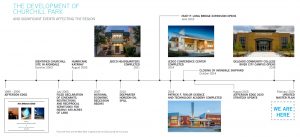 FAIRFIELD PLANNING AREA
In August of 2015, the Regional Planning Commission and Jefferson Parish completed the Fairfield Strategic Plan, which developed a series of recommendations to manage expected growth through smart growth principles and best practices for the approximately 9,000 acre Fairfield Planning Area on the West Bank in Jefferson Parish. This represents the last large greenfield area remaining within the hurricane protection levee system. The boundaries of Fairfield mostly encompass undeveloped land, but there are also a number of existing assets, including Churchill Park, NOLA Motorsports, the TPC Louisiana golf course, a planned recreational sports complex by the Louisiana Stadium and Exposition District (LSED), and some general residential and commercial uses.
In particular, the vision for Fairfield outlined in the Strategic Plan was influential in shaping the master plan for Churchill Park. It includes the following elements:
A distinctive area within Jefferson Parish that embraces smart growth principles;
A vibrant economic engine that builds on existing recreational, business and educational amenities to attract tourists, businesses and residents;
High-quality development that is more livable, resilient and sustainable through the integration of green infrastructure;
A collection of stable mixed-use neighborhoods that accommodate a diverse residential base; Enhanced mobility through better integration of residential, institutional, recreational, commercial and other land uses; and
A safe and attractive gateway to the natural resources of Jefferson Parish that lie outside the hurricane protection levee.
Population projections that resulted from the Fairfield Strategic Plan are significant, with a total daily population for the Fairfield area at more than 150,000 people, with over 50,000 residents and over 100,000 employees.
EXISTING DEVELOPMENT
An approximately 480-acre portion of Churchill Farms has been slated to become a commercial development known as Churchill Technology and Business Park, and 40 acres of land along Nicolle Boulevard was donated to the Jefferson Parish Economic Development Commission (JEDCO) to begin this work. JEDCO exercised its option to purchase an additional 50 acres two years later, and an additional ~17 acres has since been donated. Today, approximately 60 acres of this land has been graded and raised and has seen some institutional development, including:
JEDCO Administrative Offices
Business Innovation Center
JEDCO Conference Center
Patrick F. Taylor Science & Technology Academy
Delgado Community College River City Campus and Advanced Manufacturing Center of Excellence